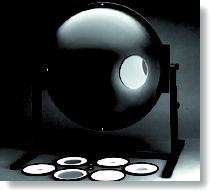 Interior Access Integrating Spheres include 10, 20, 40 and 65 inch diameter interior access spheres with four ports and a baffle. Corresponding port diameters of the 10, 20, 40 and 65 inch spheres are 2.5, 5, 5, and 8 inches respectively. All have a 0.50 inch diameter detector port. Interior access spheres are coated with Spectraflect. The 10 inch and 20 inch diameter spheres are available with Infragold coating. The two hemispheres are connected by a hinge that allows the sphere to be easily opened and closed. Quick release fasteners hold the hemispheres together when the sphere is closed. The sturdy support frame if the IAS-100 and IAS-200 provides for sphere height adjustment. The support frames of the IAS-400 and IAS-650 are equipped with rugged casters. Interior access spheres up to 76 inches in diameter are available on custom order.
Each interior access sphere has four ports with port frames located on the equator of the sphere at 0°, 90°, 180° and 270°. The spheres include a baffle between the 90° and 180° ports. The port frame at 90° is a 0.50 inch diameter port and is designed to accept a variety of detector assemblies and detector holders. Unique to each sphere size, the remaining three ports on any given sphere have the same diameter.

Standard attachments include: detector mask, port frame, port frame reducer, port reducer set, and port plugs.
General Information
Each interior access integrating sphere is supplied with the following standard attachments: detector masks, port frames, port frame reducers, port reducer sets, and port plugs. In the sphere attachment part number designation, the XXX denotes the size in inches and the SF, IG designate Spectraflect and Infragold coatings, respectively. For example, a PF-100-SF is a 1 inch port frame with Spectraflect coating.
A detector mask serves to mask the black face of the detector assembly so that only the active area of the detector is exposed to the interior of the sphere.
A port frame is a circular flange that is swagged onto the integrating sphere at a port. It serves as a mounting fixture for adapting integrating sphere accessories.
PFR-XXX-SF, IG

A port frame reducer mounts onto port frames larger than 1 inch and effectively reduces that port frame to a 1 inch port frame (PF-100). It serves as the interface that permits Labsphere 1 inch port frame accessories to be mounted on port frames larger than 1 inch.
A port reducer (PR-XXX-YYYY) mounts onto a port frame (PF-XXX) and reduces the clear aperture of that port frame to a new value (YYYY).
PP-XXX-SF, IG

A port plug mounts onto a port frame (PF-XXX) and plugs the corresponding port. A port plug will also mount onto a frame equipped with a port frame reducer.
Optional accessories are available to mount lamp light sources, detectors, lens adaptors, laser targets, sample holders, filter holders and detector holders.
| | | | | | |
| --- | --- | --- | --- | --- | --- |
| PART NO. | SPHERE DIA. (IN.) | PORTS (NO.) | INPUT PORTS (IN.) | DETECTOR PORT (IN.) | MATERIAL/ COATING |
| IAS-100 | 10 | 4 | 2.50 | 0.50 | Spectraflect, Infragold |
| IAS-200 | 20 | 4 | 5.00 | 0.50 | Spectraflect, Infragold |
| IAS-400 | 40 | 4 | 5.00 | 0.50 | Spectraflect, Infragold |
| IAS-650 | 65 | 4 | 8.00 | 0.50 | Spectraflect |