Maximize Performance through Benchmarking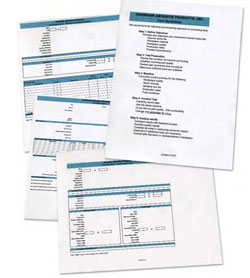 To maximize process performance, it's necessary to conduct trial tests.
There are a number of reasons for this, including the following:
New machine installation
Introduction of a new part size
Changes to qualify parameters
Need to improve part finish/geometry
Reduced abrasive costs
Change in an upstream process such as grinding
Implementation of new coolant
Increased productivity
Darmann recommends a benchmarking approach.
Benchmarking is a documented study of the current process, together with related influences (e.g. incoming part quality). This practice enables the user to fully evaluate the outcome of subsequent trials.
There are five steps in the benchmarking process. These are:
1. Define Objectives – Develop a clear understanding of the test objectives, along with possible process trade-offs. For example, if the objective is to improve stone life, the use of a harder stone may impact the stone's cutting action.
2. Test Preparation – Make sure that sufficient parts are available to conduct a meaningful test. Review the condition of the machine, and associated tooling to be used. Establish incoming part quality representative of normal production conditions. Review concerns and complaints of those familiar with the process.
3. Establish Baseline – Document the current process. This includes incoming part quality, final part quality, stock removal, abrasive tool life, production rate, fluid conditions and other pertinent information. Use a data sheet that compliments internal record keeping, or use a standard one from Darmann.
4. Conduct Test – Test conditions need to be carefully recorded in order to make meaningful comparisons with the current process. Darmann recommends that the test be done on the same machine. Initial focus should be on achieving the desired part quality before attempting to realize productivity improvements or cost reductions. This usually means starting with softer grade stones, and using lower tool pressure. Further testing should be conducted by changing one machine parameter at a time.
5. Analyze Results – The value added of alternative abrasive tool options is determined by comparing the test results against the baseline process. Results should be quantified, and the cost impact calculated.
Darmann Abrasive Products, Inc.
100 Sterling Street
Clinton, MA 01510
Darmann Abrasive Products, Inc. designs, manufactures and markets fine grit bonded abrasive products. These include superfinishing, precision grinding and honing processes using diamond cup wheels and diamond grinding wheels to accomplish precision surface grinding. Sitemap - Resources