Benefits of Radio Remote Controls
Allows crane operator to be right near the load during precise spotting/positioning of loads increasing overall productivity.
Eliminates wasted time in retrieving the crane and hoist when the operator is not in the immediate proximity of the crane or hoist.
The only viable solution for applications where control pendant access is not practical.
Enhances overall safety by limiting crane operation access to only those assigned plant personnel.
Radio to Pendant Operation Via One Simple Transfer Switch.
Units Available Without FCC License.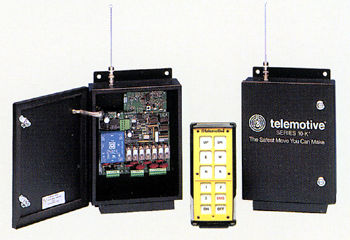 Radio Remote Control Panel