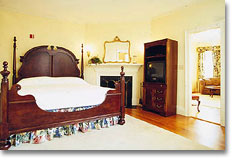 Whether you're visiting for a week or six months, our extended stay facilities are sure to make you feel at home. And with all the amenities of the Inn just steps away, you'll truly feel pampered!
Choose from one, two or three bedroom suites. Each has it's own living, dining and bedroom areas, individually decorated in a colonial motif. Color television, telephones with voice mail, air conditioning, stove, refrigerator; all are standard.
Concord is a beautiful town to call "home" while you're visiting. Many of our guests become so enamored with our Inn and our staff that they return again for their vacation!
click here for rates and packages


Located just steps from the main Inn. Designed and appointed for the most discerning guest, Rebecca's features fully furnished

The Keyes House annex has two spacious and well-appointed House Suites, each with two bedrooms, a full kitchen and full bath. The Keyes House is an excellent choice for long-term accommodations.

A delightful home adjacent to the inn the 18 Lowell House. Features 2900 sq. ft including:

Five full bedrooms
Full kitchen
Dining room
Living room
Sitting room
2 ½ Bathrooms
Dishwasher, clothing washer/dryer 18 Lowell is available for monthly rentals and beyond.

Steps from the main inn is the 24 Lowell House. Is available for monthly rentals and beyond.

Three full bedrooms
Living room Dining room
Full kitchen
For monthly pricing and availiblity please call:
888.888.8889 ex. 503