About Us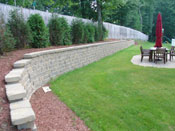 Tompkins Landscape and Irrigation has been serving customers in the Landscape contractor industry since 1990. In the company's first year, lawn maintenance was Tompkins Landscape and Irrigation's primary concern. Since then, we have expanded to every facet of the landscaping industry while keeping strong ties with the maintenance aspect of the business.
In 1992 we began constructing walls and walkways. To solidify our knowledge of walls and walkways we immediately began sending employees to seminars to introduce all of the new skills required. Since then, our employees have refined their skills. Our new employees are trained in-house and attend skills seminars as well.
One year later in 1993, we took on a larger role in the industry by learning the installation process for an irrigation system. Due to the complexity of the installation process, we took a year in the classroom before installing our first system. Our first system was installed in the summer of 1994. Most of our veteran irrigation designers and installers have been with the company since that first system, and all of our installers are Irrigation Association certified. Our veteran designers and installers still attend "refresher" courses and must pass a test each year. Younger employees are in-house trained and must complete a seminar where a failing grade could mean the unemployment line.
Today, we strive for excellence and desire to be the best in each individual field as well as the industry. We are constantly evolving as a company to fit our customer's ever changing needs and the demands in the industry. Tompkins Landscape and Irrigation welcome's you to come and discover what many families and businesses have already discovered. What they have discovered is simple: Tompkins Landscape and Irrigation delivers excellent service with quality products at competitive prices.
Class- landscaping design, landscapers, corporate landscaping